Deb Brunt, FolkMADS local hero
Briefly introduce yourself and how you got involved in dance/music.
Deb Brunt, Albuquerque resident since 1986. Semi-retired mechanical engineer. I'm originally from Massachusetts but I never tried contra dancing when I lived there. I started first with country-western dancing and was a member of a performing CW dance group (High Desert Dancers) for many years. That's where I met my partner, Tom Leith. Tom was the person that introduced me to contra dancing.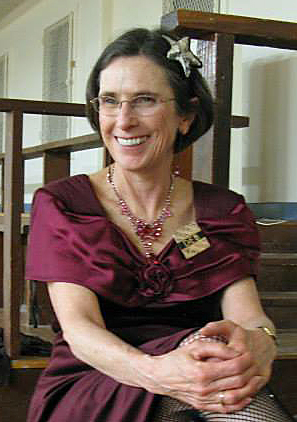 How and when did you get involved with FolkMADS? What encouraged you to contribute to our community?
I was first involved with FolkMADS as a dancer. I attended FolkMADness for the first time in 2005 and somehow volunteered to help with registration! I have a friend in another volunteer organization (Society of Women Engineers) who once told me that I have a "V" (for volunteer) on my forehead! I like to get involved in organizing things and am detailed-oriented (I'm an engineer – surprise!) so FolkMADness registration is a good fit for me. I've also served on the Board, I send out the weekly emails, and do other jobs for FolkMADness.
What's a contribution (or a few) you've made in FolkMADS that's most meaningful for you and how has that contribution enriched your life?
Serving as FolkMADness registrar and working with Lisa Bertelli & Nancy Ford, has been the most meaningful. We make a good team! I like welcoming people to our community, both the first time attendees and the folks that come to FolkMADness every year. I take great pride in the fact that all the work we do results in a well-run event.
What have been some of your most memorable events with FolkMADS or friendships it has fostered?
FolkMADness and my friendship with Lisa and Nancy. And of course, anytime I can dance with Tom is memorable!
What would you like to see in FolkMADS's future?
More young people. I really hope the UNM dances can help in that regard.
Other people that should be recognized:
The Albuquerque Megaband. They play every month for FREE!!!! Without the generosity of these musicians, FolkMADS would be really struggling financially. Special recognition for Jane Phillips and Bruce Thomson for their work with the Megaband.