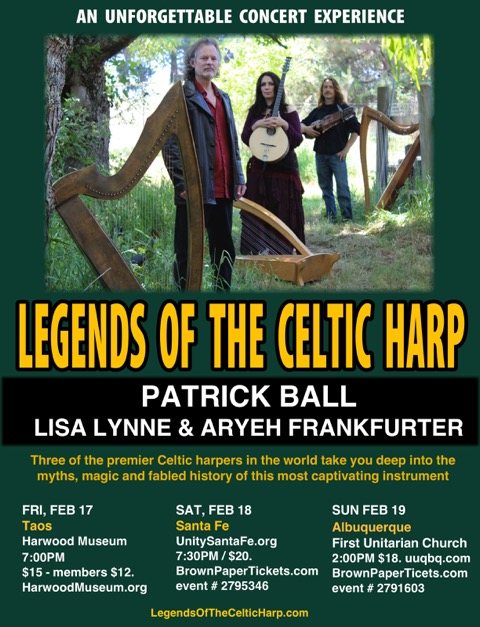 "LEGENDS OF THE CELTIC HARP" is a musical journey into the heart of a legendary instrument. Three of the premier Celtic harpers in the world, Patrick Ball, Lisa Lynne and Aryeh Frankfurter, have created a dramatic ensemble that takes you deep into the myths, stories, magic and fabled history of this most captivating instrument.
This trio of Celtic harpers who have toured extensively throughout the US to sold out audiences and rave reviews. One recent review states "Legends of the Celtic Harp is a blend of music and oratory, falling somewhere between concert and theater. It spanned nearly the range of human feeling, from humor to tragedy, tenderness to rage, reality to mysticism, and more besides. The effects were powerful and exhilarating." (Presenter Review)
Audiences will hear three Celtic Harps including the rare wire strung, Swedish Nyckelharpa, Cittern and Irish Bouzouki intertwined with moving stories of humanity and music through time.
www.LegendsOfTheCelticHarp.com