Regular Dances
For our regular dances, navigate to the follow pages:
Albuquerque Events
Santa Fe Events
Taos Events
UNM Events
###
Special Events
Boo Camp 2016 Registration Open
Boo Camp 2016 (Oct 28-Oct 30) registration is open and is available online! Register Here. 
We're pleased to announce that we will have The Thrifters and The Adobe Brothers playing for us, with Noralyn Parsons and Erik Erhardt calling!
Click here for More Info
Cathy Barton & Dave Para
House Concert on Wednesday, 8/3/16
7:30 to 10 p.m.
1018 Idlewilde SE
Albuquerque, NM
NM FolkMADS is proud to co-sponsor a house concert featuring Cathy Barton and Dave Para, and the string band Snor T Horse, all from Missouri. Cathy (banjo and hammer dulcimer) and Dave (guitar) have played old and new time folk music for 40 years and are passing through Albuquerque on their way to the Red River Dulcimer Festival (www.nmdulcfest.com/) where they will be the featured performers. Cathy & Dave are great instrumentalists and fabulous singers as well as wonderful raconteurs. They were last here for the 2015 NM Folk Festival and were among the festival favorites.
Snor T Horse is one of those funny-while-late-night-driving names for a band comprised of Mike Fraser (mandolin & fiddle) and Tenley Hansen (guitar & piano) as well as Cathy and Dave. Together they will provide an evening of old and new fiddle tunes and songs from a diverse repertoire seldom heard in NM.
Reservations aren't required but seating is limited so it'd be a good idea to call & reserve a seat.
Call: Bruce Thomson (505-264-1049)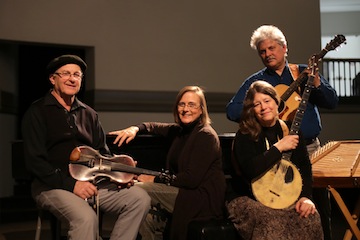 ###