FolkMADness May 26-29, 2018 is our 26th Event!
We are very excited to announce this year's talent for our annual FolkMADness Camp!
Bands: Joyride and Nearest & Dearest
Callers: Kalia Kliban and Bob Isaacs
Singing: Nearest & Dearest
Additional Musicians and Callers: Ladies at Play, Karina Wilson, The Adobe Brothers,  & Cheap Shots.
Registration is now open! Register before April 30th to avoid a 25$ per person late fee!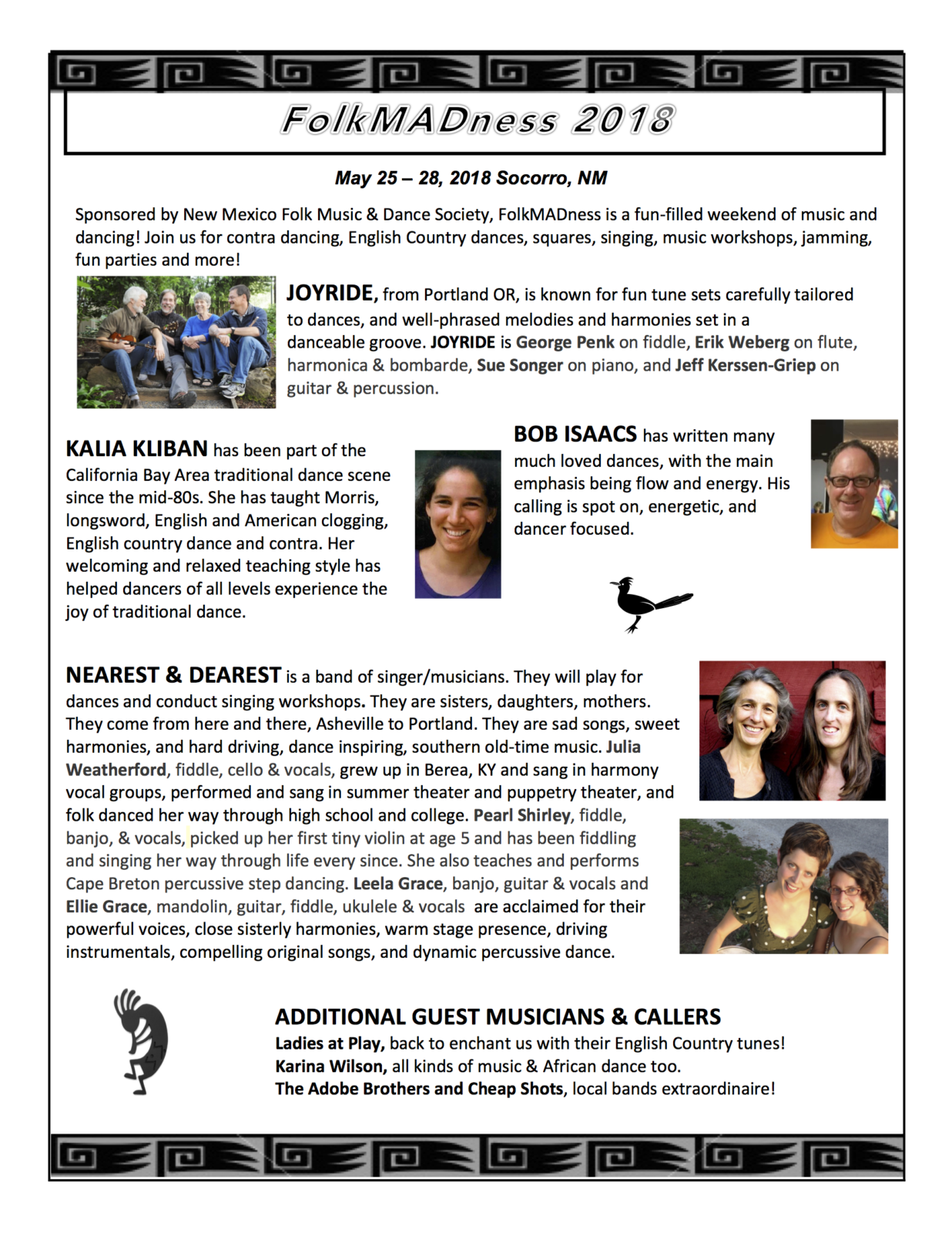 GENERAL INFORMATION:
FolkMADness is held at New Mexico Tech University, located about 75 miles south of Albuquerque. The campus has sweeping lawns, large shade trees and plenty of outdoor space to jam or just hang out. The main gym (dance hall) has a wood floor. All meals are included and provided by the campus food service. Vegetarian, non-dairy and gluten-free choices are available. The weekend begins on Friday at 4 p.m. and continues with dancing and more through Monday lunch.
FACILITIES:
Dorm rooms have two twin beds and shared bathrooms, some of which are "down the hall". Bring your own bedding, pillows, and towels or rent linens (sheets, blanket, pillow, and towels) for $15 per person. Single rooms with shared bath are available for an additional fee.
SCHEDULE:
The 2018 Schedule is not available, however you can see the 2017 Schedule.
CHILDREN:
FolkMADness is a child-friendly event. Children's activities are offered throughout the day. Evening care is organized by the parents. All parents are expected to assist with one children's activity and take a turn at childcare. Older children are encouraged to join us at the dances and workshops.
WORK-TRADE POSITIONS:
This option requires prior approval and registration and payment before April 1, 2018. If you are interested in Work-Trade please email Marina Bertelli and do not register until you have been accepted for this discount. Some of the needed jobs are: Friday Setup, Big Gym Setup, Concert Set Up, Water Station Setup, Workshop Setup, Floor Cleaning Coordinator, Kids' Activities Coordinator, Kids' Activities Helper, Gym Upkeep, Snacks Assistant, and Admissions Assistant. Work-Trade position discount $100 for adults and $80 for young adults off registration. Please note: All work-trade positions are currently full. However, email Marina to sign up for the work-trade waitlist.
VOLUNTEERING & SNACKS:
During registration, all participants are asked to sign up for a 1-hour chore. Please also bring a snack to share.
DONATIONS:
Please bring arts & crafts, musical instruments, gift baskets and other fun items for the raffle to benefit our financial aid program. You can also donate directly with your registration.
PETS:
Sorry, furry friends are not permitted on the New Mexico Tech campus.
CANCELLATIONS:
Your registration, less $35, will be refunded if you cancel by May 10. After May 10, your full fee will be retained if we cannot find a replacement attendee.
REGISTRATION:
Registration is now available! We would prefer you register online (you may pay be check or pay-pal when you register online), however, we do have a paper registration form available. Register before April 30th to avoid a 25$ per person late fee!
Check out last year's camp information below
2017 Schedule
2017 Brochure, Registration, and Cost
2016 General Camp Information (Lodging, Meals, Raffle, etc)
FolkMADness Camp Archive
2017 2016 2015 2014 2013
2012 2011 2010 2009 2008
2007 2006 2005 2004 2003
2002 2001
Pictures from past Folkmadness Camps!:
Folkmadness 2008
Folkmadness 2014
Folkmadness 2015
Videos of Folkmadness 2015 May Camp: Courtesy Ben Werner

Videos of Folkmadness 2017 May Camp: Courtesy Ben Werner