Cheap Shots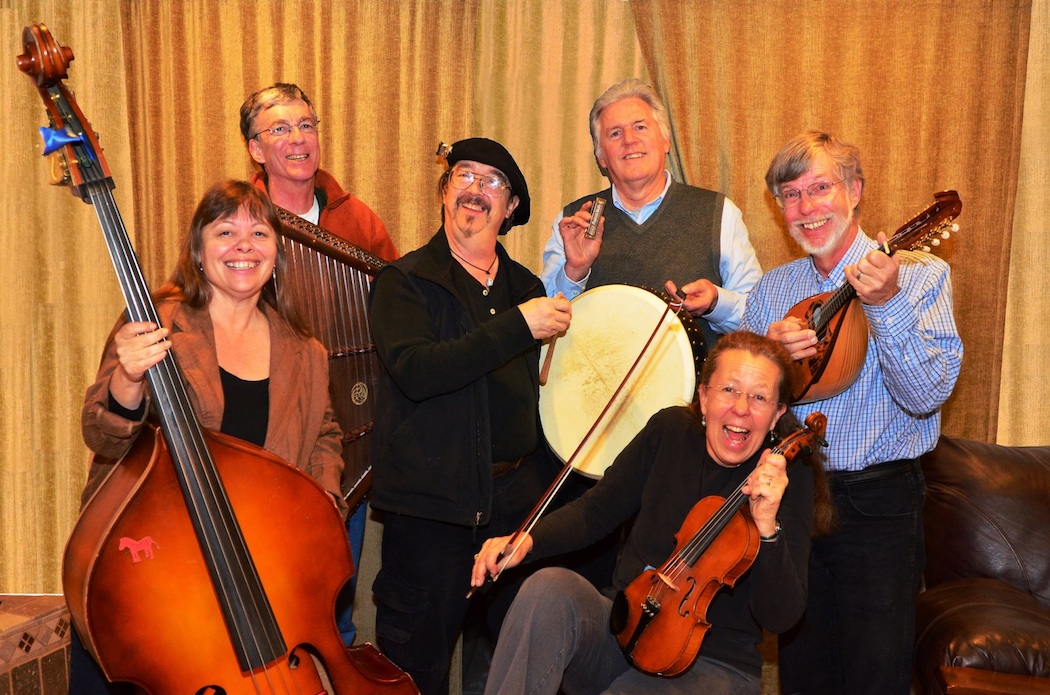 Cheat Shots is an energetic six-person acoustic band plating contra dances, performances, weddings, private parties and more.
Contra dances: The band plays mix of New England and Southern style contra music, with occasional Swing or International sounds as well. Many of the band's members are also contra dancers who work to emulate contra bands whose musical styles (and feel) have made dancing especially enjoyable for us. The band keeps their music styles diverse and occasionally throws in crazy arrangements — all for purpose of make dancing interesting and lots of fun!
Performances: Intertwining instrumental and vocal music (including original songs), the band draws upon an eclectic mix of Old Time, Celtic, Contra Dance, Folk, Country, Blues, Bluegrass, Swing, and Rock.
The six band members include:
Peter Esherick on hammered dulcimer and mandolin and banjo
Jimmy Abraham on fiddle, harmonica, guitar, and vocals
Pat Aruffo on fiddle
Erika Gerety on bass, mandolin, and vocals
John Brinduse on keyboard, some guitar, and percussion
Bill Balassi on guitar and mandolin
Cheap Shots won the Old Time Band contest at the 2006 Santa Fe Bluegrass Festival, and the group's singer/songwriter, Jimmy Abraham, who has two CDs to his credit, won the 2005 Songwriting Contest at the Walnut Valley Festival in Winfield, KS. The band has been together since 2004 and with Jimmy Abraham since 2006.
Cheap Shots has played at the following venues: Tucson Folk Festival, Santa Fe Old Time and Bluegrass festival, Albuquerque Folk Festival, Durango Contra Dance, Balloon Museum, Old Town plaza, Shade Tree Cafe, Old Town Pizza, Hidden Valley Association, Maxwell Museum, UNM Faculty Club, Socorro Dance Camp Festival, The Celtic Festival Celtic Christmas festival, The Irish American Club, FolkMads Dances in Santa Fe and Albuquerque, Piano Source, Weems, Bacon Fest, Herb Fest, Wildlife West Fest, Front Porch Radio, Explora, Arts and Medicine, private weddings, parties and more…