FolkMADS is a non-profit organization which promotes and teaches traditional music and dance. Our reach includes Albuquerque, Santa Fe, and Taos.
---
Featured News:
Special 5th Saturday Dance!
"Challenging Figures and Unusual Formations"
July 29th @ Albuquerque Square Dance Center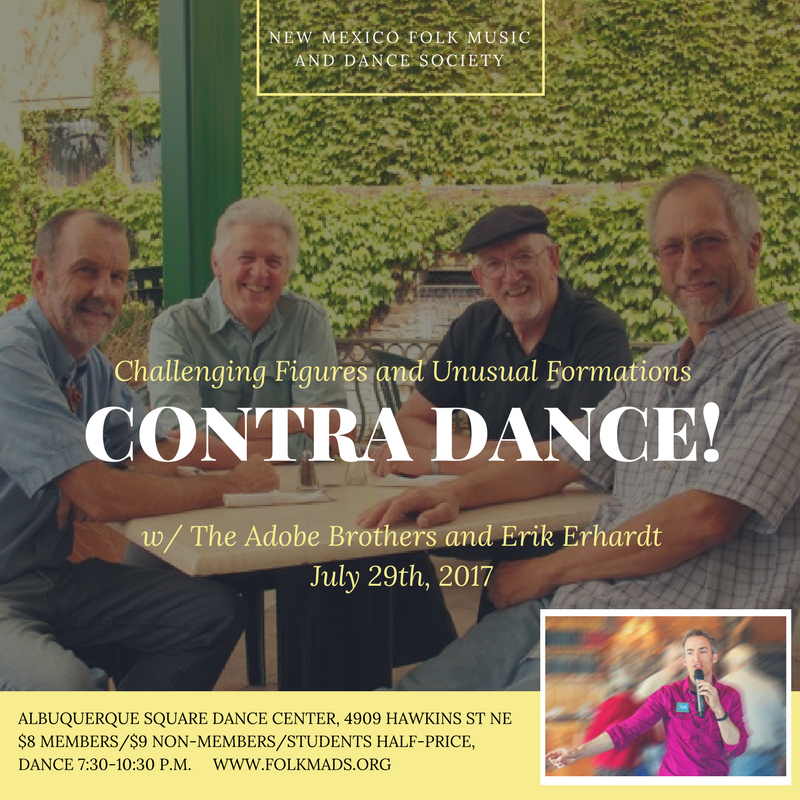 Erik Erhardt and Adobe Brothers
Dance: 7:30 – 10:30pm
$8 members / $9 non-members / students half price
The special 5th Saturday dance will be "Challenging Figures and Unusual Formations".
This dance is intended for experienced dancers, please don't bring friends who aren't up to the expected skill level (it is not only a disservice to them, but it is also unfair to your fellow dancers), instead, bring them to a different evening.  What does "experienced" mean?  It means:
* You know how to do a roll away, California twirl, pass through to a wave, contra corners, and the basic moves without being taught
* You know where to be at the start of each dance phrase and how to recover from a lapse
* You assist your partner and neighbor to the next move
* You execute flourishes safely and on time without disturbing others
FolkMADness 2017 was a blast!!
Please fill out the Survey!
---
We have a whole new series of blog posts! Check them out here. 
---
Music is the founding principle of FolkMADS. Find out more about local bands, practices, concerts, and jams on the Music page.
Contra Dance and English Country Dance are our most frequent dances. We also host cross step waltzing events and occasionally throw in some Squares and Morris dances too. More information and a complete calendar of events can be found on the Events page.
Callers are the bridge between the musicians and the dancers. Navigate to the Callers page to find out more about regional callers and how to learn to call.
FolkMADS creates many opportunities for music and dance. See what we're up to!
---
Additional Resources